Mini Baccarat is a game similar to Baccarat. Indeed, it is played under the same rules as US Baccarat. The only major difference we can find regarding these two games is that players are very likely to win with lower betting limits. Also, Mini Baccarat is funnier on the Internet, it is a very relaxed game and everybody can play it.
The table used in Mini Baccarat is of course smaller than the one used in standard Baccarat. It actually looks like a Blackjack table although players can bet on seven specific places.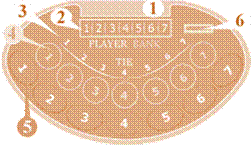 Here are listed the different table's areas:
Chip stacks
Commission Boxes
Tie betting area
Banker betting area
Player betting area
The Shoe
Every single player has three betting areas in front of him. These areas have diverse colors. Putting chips on the red circle means that someone will bet on the player, the yellow circle referring to a bet on the bank and the white circle referring to a tie bet.
The dealer is always seated opposite players. In land-based casinos, there is a chip rack in front of the dealer as well as a numbered area which is used in order to keep track of the commissions owed by players. The number presented in the area corresponds to the number of seated players. In the Mini Baccarat game, the dealer always represents the Bank. Players do not have the right to touch the card.
Rules in brief
The rules of Mini Baccarat are precisely the same as standard Baccarat. As explained above, there are three betting options in Baccarat. We can bet on the player's hand, on the banker's hand or on a tie. Players will make bets according to these three options.
The dealer will distribute two cards face-up to the player, and two other cards face-up to himself as he represents the banker.
The dealer may deal a third card to both the player and the banker according to the result cards have just shown.
The dealer will compare results and hand's values.
The dealer will eventually collect the lost bets and will pay the winnings.
The dealer generally pays 1 to 1 in case of a victorious winning banker hand. He also makes notes of the commission owned by the player before he leaves the table. This process does not longer exit in online casinos, where Mini Baccarat is usually offered. Rules may change according to online casinos but Mini Baccarat is always more profitable than standard Baccarat regarding payments as the betting limits are rather low.
You still have a lot to learn with all of the articles listed below: